Students! Did you do your profile survey? Check your email for a chance to win a £20 voucher and tell us what you think now!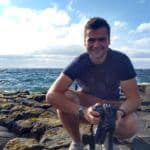 I'm so happy to have won I'm a Scientist, Get me out of here!, I cannot thank everyone who voted for me enough, I really enjoyed every moment of the event. I was very impressed with the enthusiasm and interest of the students and the quality of the questions. I must thank the organisers and moderators, everyone on the I'm a Scientist team was incredible and worked so hard behind the scenes to make the event run smoothly, I particularly liked all the Twitter interaction surrounding the event!
I don't think I was quite prepared for the huge variety of questions, or the intense fast-paced nature of the online chats. Questions of all types came flooding in; from my favourite animal to my own hobbies to my interest in dinosaurs. What got me interested in science, what was my background, who supported me, what obstacles I've faced along the way and how long I've been a scientist. Why my specific area of research, nanomaterials, is important. What they are used for, how do we store them, see them and if I've ever lost any!
This event is so important as it lets students experience first-hand that scientists are people too and a career in STEM is readily achievable if you have a love of science and a passion for knowledge. I have to thank Science Foundation Ireland for sponsoring the zone and recognising the importance of science outreach and communication. I would also like to thank my colleagues in AMBER Trinity College Dublin, my family and my girlfriend for all their encouragement and support.
My deepest commiserations go out to the other scientists in my zone who were brilliant to work with, I learned so much from their responses. I really enjoyed the diversity of not only the New Materials Zone, but the other zones, and the UK portion of the event. The whole experience was really fun.
If anyone is interested in participating in I'm a Scientist, I would highly encourage them, you learn so much about yourself, and how others view you and your research area. It is a really rewarding experience!
Scientists! If you'd like the chance to win funding for your own public engagement work, apply for the next I'm a Scientist, Get me out of here: imascientist.ie/scientist-apply